Defining the best gaming monitor for your PC gaming setup varies on your budget, the type of games you play, and your level of competitiveness. You can find a large 4K monitor with a high refresh rate for over a grand, but most gamers have to choose between high refresh rates for online gaming or high resolution for maximum graphical performance. Thankfully, a solid QHD monitor like the Razer Raptor 27 hits the sweet spot between the two, but we have several alternatives below for more specialized needs.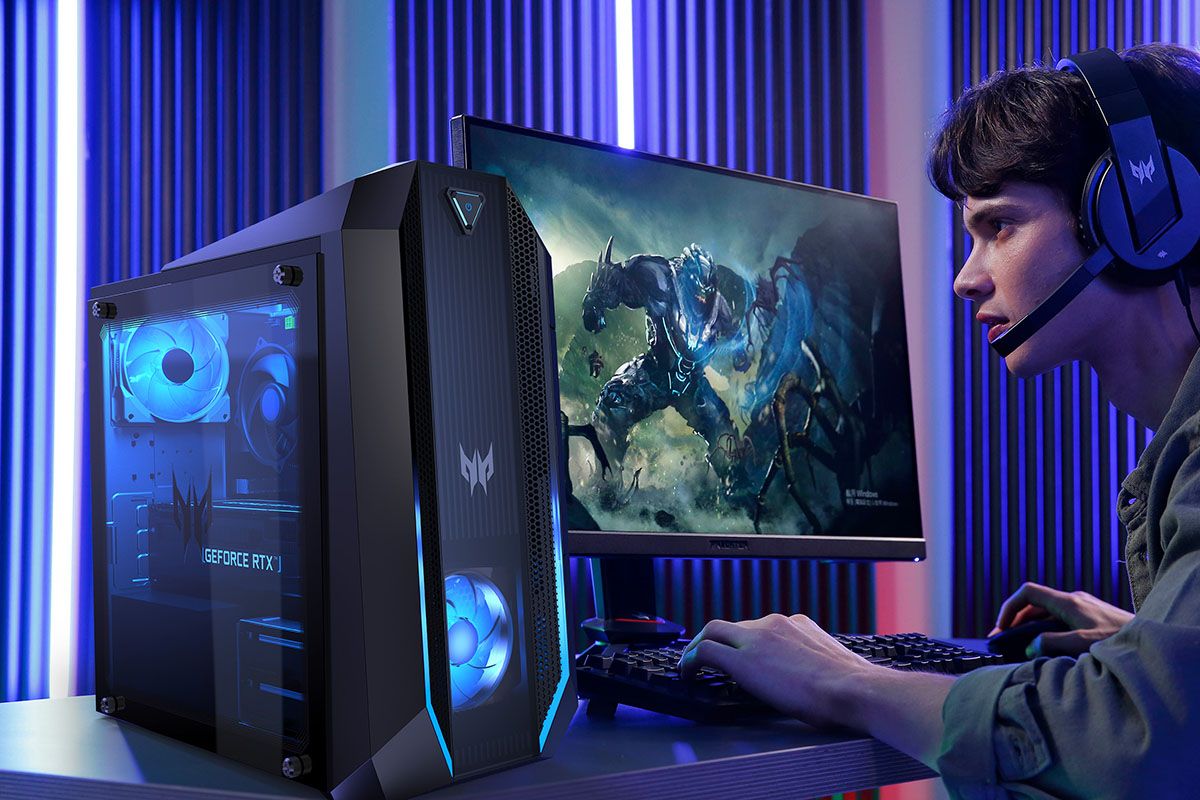 Best Overall: Razer Raptor 27
While discussing the Razer Raptor 27, we'll introduce all the terms and features to look out for in a gaming monitor, as it has everything you can ask for. Its 178-degree IPS viewing angle means the monitor looks just as bright from the side as it does from the front, and its 95% DCI-P3 color gamut means that Razer doesn't sacrifice color accuracy for performance, as many monitors do. Its 144Hz refresh rate means the Raptor can refresh itself 144 times per second, making the gameplay smoother and ensuring your high FPS performance translates to the monitor. With a 1ms response time, your mouse movements will immediately translate onto the screen without distracting input lag.
We chose the Razer Raptor 27, our top QHD (2560×1440) display, as our best overall pick because it strikes an outstanding balance between features and price. While 4K monitors struggle to rise above 60Hz and 1080p monitors can't make current-gen games look as pretty as they should, 2K monitors like the Raptor give a fast performance without sacrificing aesthetics. If you also use it for non-gaming purposes like watching movies or doing creative work, you'll appreciate the wide color gamut, though its 350 nits of brightness are only average.
Some buyers may not like Razer's proprietary cable system for simplifying and hiding your wires, and its HDR400 isn't true HDR. But these are minor concerns against excellent performance if the price tag doesn't scare you off.
Pros:
Superb color accuracy
IPS QHD display
FreeSync and G-Sync support
144Hz
Superior brightness and contrast in HDR400 mode
Joystick for adjusting settings
Cons:
Fairly expensive
Proprietary cable system
HDR400 isn't true HDR
Best Overall
Razer Raptor 27″ Gaming Monitor
Excellent specs for work and play
The Razer Raptor 27 is a bright and fast display that works just as well for editing work as for esports, making it our top pick.
Runner-Up: LG 27GL850-B
Slightly more affordable than the Razer Raptor, the LG 27GL850-B gaming monitor is no slouch regarding specs. Sporting a QHD (2560×1440), 144Hz panel with a 1ms response time, and Nvidia G-Sync support, this LG monitor will easily handle fast-paced, high-FPS gameplay. Like the Raptor, it hits 350 nits of brightness, allowing HDR400 but not true HDR. It truly stands out because LG's Nano IPS tech provides fast refresh rates while capturing a wide color gamut. It hits 98% DCI-P3, beating out all the non-LG monitors on this list. If you want a gaming monitor that doubles as a photo editing or business monitor during work hours, this may be your best non-4K option that won't cost you too much. It has thin bezels on three sides, plus the option to tilt, raise/lower, and pivot the monitor for the best viewing angle.
With so many similarities to the Razer and a lower price tag, we could have easily chosen the LG 27GL850-B as the best gaming monitor. Some reports that the LG monitor's issues with color contrast, particularly struggling with blacks appearing as grays, gave us pause. By comparison, Windows Central found that the Raptor outperformed its estimates in brightness and color performance. We also appreciate the Raptor's flashy design with RGB Chroma support and ultra-thin bezels, whereas the LG design is perfectly functional but more mainstream.