Perfect Fit
TP-Link Archer AX3000 / AX50
Support more devices
TP-Link Archer AX6000
The TP-Link Archer AX50 (known as the AX3000 at Walmart) is an excellent balance for many people, with its fast AX3000 speeds being more than enough for most. Four Ethernet ports make it easy to connect your wired devices, while a USB 3.0 port lets you hook up an external storage device. TP-Link includes HomeCare with the AX50 model, which provides excellent parental control software and antivirus protection.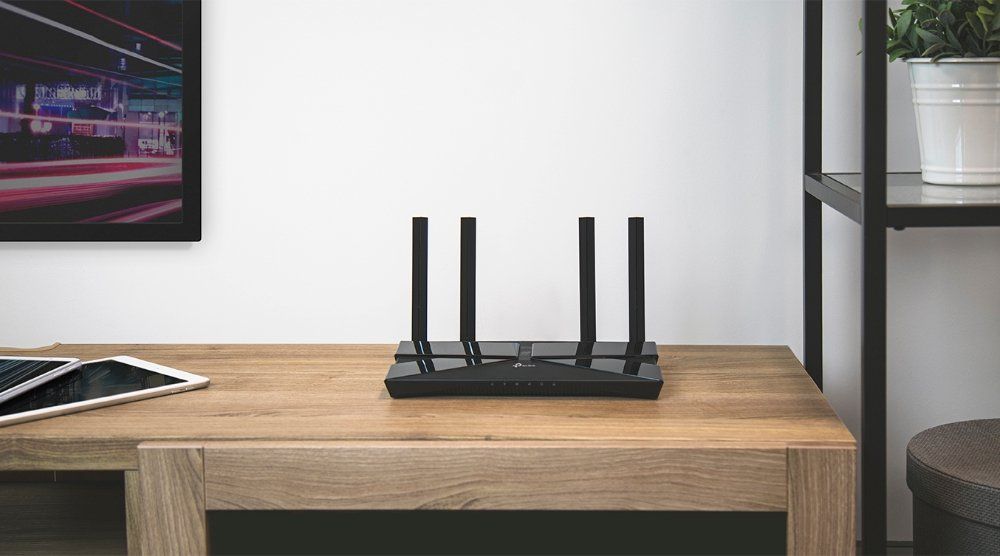 $141 at Amazon
Pros
AX3000

speeds are fast enough

for most
Four Ethernet ports
Smaller size
HomeCare software included
Cons
Only dual-band Wi-Fi
Coverage is not as strong
The TP-Link Archer AX6000 is an excellent option for many people who need to get many devices online. Even if you haven't jumped to Wi-Fi 6 for your devices yet, the Archer AX6000 features eight Ethernet ports so you can get all of your wired devices online. On the side are USB-A and USB-C ports running at 3.0 speeds, so you can quickly connect a network drive.
$270 at Amazon
Pros
Fast AX6000 speeds

Eight Ethernet ports
Dual USB ports with USB-C
HomeCare included
Cons
The large size makes it hard to place
Expensive
Only dual-band Wi-Fi
Both of these routers offer great value, with wireless speeds fast enough for most people when it comes down to it. For most people, the AX3000 speeds of the Archer AX50 will be more than enough for most, and at half the price of its bigger brother, it makes a lot more sense. Adding HomeCare to both routers makes it easier to keep your family safe online and supports students working at home on the track.
First off, get the right TP-Link AX3000 router.
The Wi-Fi 6, AX3000 range has the TP-Link Archer AX50 and the TP-Link Archer AX3000. Both models deliver the same speed and features, except HomeCare, which comes with the AX50. Like many router manufacturers, TP-Link makes similar models for different retailers.
The other big difference is the price. The AX3000, available at Walmart, is often cheaper than the AX50.
TP-Link AX6000 vs. AX3000: Wi-Fi 6 for everyone
Source: TP-Link
There's no doubt about it. TP-Link has brought the price of Wi-Fi 6 routers down to a level where it's hard to recommend buying even a fast Wi-Fi 5 router. For most people, the 2,402Mbps speeds the AX50 can deliver on the 5GHz band will be more than enough, especially since most Wi-Fi 6 devices, such as the Samsung Galaxy S20 or the iPhone 11 Pro, only support a max download and upload rates of 1.2Gbps (1,200Mbps). There are still a few good reasons to go for the faster and larger Archer AX6000, but speed isn't one of them for most people.
TP-Link Archer AX3000 (AX50)
TP-Link Archer AX6000
Wi-Fi standard
Wi-Fi 6
Wi-Fi 6
Wi-Fi speed
AX3000
(574Mbps + 2402Mbps)
AX6000
(1148Mbps + 4804Mbps)
5GHz band
160MHz
160MHz
WAN speed
Gigabit
2.5G
Ethernet ports
4
8
USB ports
1 USB-A 3.0
1 USB-C 3.0
1 USB-A 3.0
Mesh support
None
OneMesh
Parental Controls
HomeCare
HomeCare
Dimensions
10.2″x5.3″x1.5″
10.3″x10.3″x2.4″
The Archer AX50 looks much like any router you may have seen before, with a wide rectangular base and four antennas mounted on the back. On the back, you also get four open Ethernet ports for wired devices and one WAN port to connect to your modem. There's no link aggregation here, so your wired connections will max 1 Gbps. This is still plenty for 4K or even 8K streaming and is likely faster than your internet connection. If you need more wired speed and ports, the Archer AX6000 is a sensible step up. This router has fair housing with two antennas on each edge for eight. On the back are eight Ethernet ports with link aggregation on two of the ports. The WAN port supports a 2.5G connection for high-speed fiber connections or, more likely, a reference to a fast-wired network with a NAS.